February 2023 - I'm undertaking a Business for Good course with Small Business Britain. It's all about how to put sustainability into practice in a small business. I'm bursting with ideas, I just need to put them into practice. Watch this space 🤩
What do I supply sustainably?
🧵I only choose fabrics which are natural and do not have any plastic elements such as viscose. This means I concentrate on 100% cotton. I do try wherever possible to ensure that they are OKEO-TEX ®️ certified and the majority of ranges adhere to this standard. I will continue to source beautiful fabrics which are natural.

🪡In particular, I love selling Tilda fabric for its colour and pattern. Not only is it beautiful, but they take their sustainability responsibility seriously - their cotton supplier is ISO9001 certified and a member of BCI (Better Cotton Initiative) and their Indian mill is SEDEX Approved and BSCI Approved.
How can I provide my services sustainably?
✂️I don't like waste! At the end of every bolt of fabric, there is invariably a section of fabric which is not big enough to be a fat quarter measure of fabric. The remnants will be listed in the Remnant page and maybe it's just the extra little flash of colour you were looking for to finish a project - and you know that you're using a beautiful waste product too. I am just about to list so many that I've been collecting - so keep an eye out for this going live!

🕸being an online retail store means a lot of work is done on a computer. Maybe you think you can't make this as sustainable as possible as surely everyone uses Google. However, do you use a Hoover to do the hoovering in the house? I use a Dyson but I still 'hoover' the house. In the same way, I use Ecosia as my internet browser to do my googling.

💫Every search counts and after approximately 45 searches that you make, a tree gets planted. If you install it as your default browser, you can see the number of searches you make add up and also the number of trees planted by Ecosia users as a whole.

🌿A sustainable browser that can literally help save the world as it is more than CO2 neutral as well as being completely transparent and privacy friendly. Go and have a look https://www.ecosia.org, it took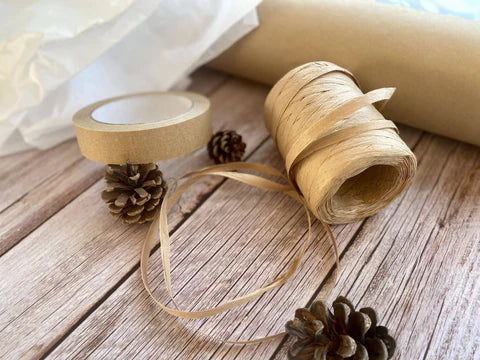 How do I package your orders sustainably?
🌿Our household makes as many eco-friendly household decisions as possible and we are very conscious about recycling. This naturally extends to the business. We spent a long time looking into our packaging to ensure that it has a low carbon footprint and is recyclable.

🌿Each bundle of fabric is wrapped in recycled tissue paper and secured with a sticker (I'm working on options for the stickers to be recycled).

🌿The tissue paper is made from 99% recycled pulp fibres. Approximately 35% of the electricity used to make this product is produced from renewable sources.

🌿Each bundle of fabric is secured with raffia tape which is fully compostable and a swing tag made from recycled paper to tell you the fabric is from me!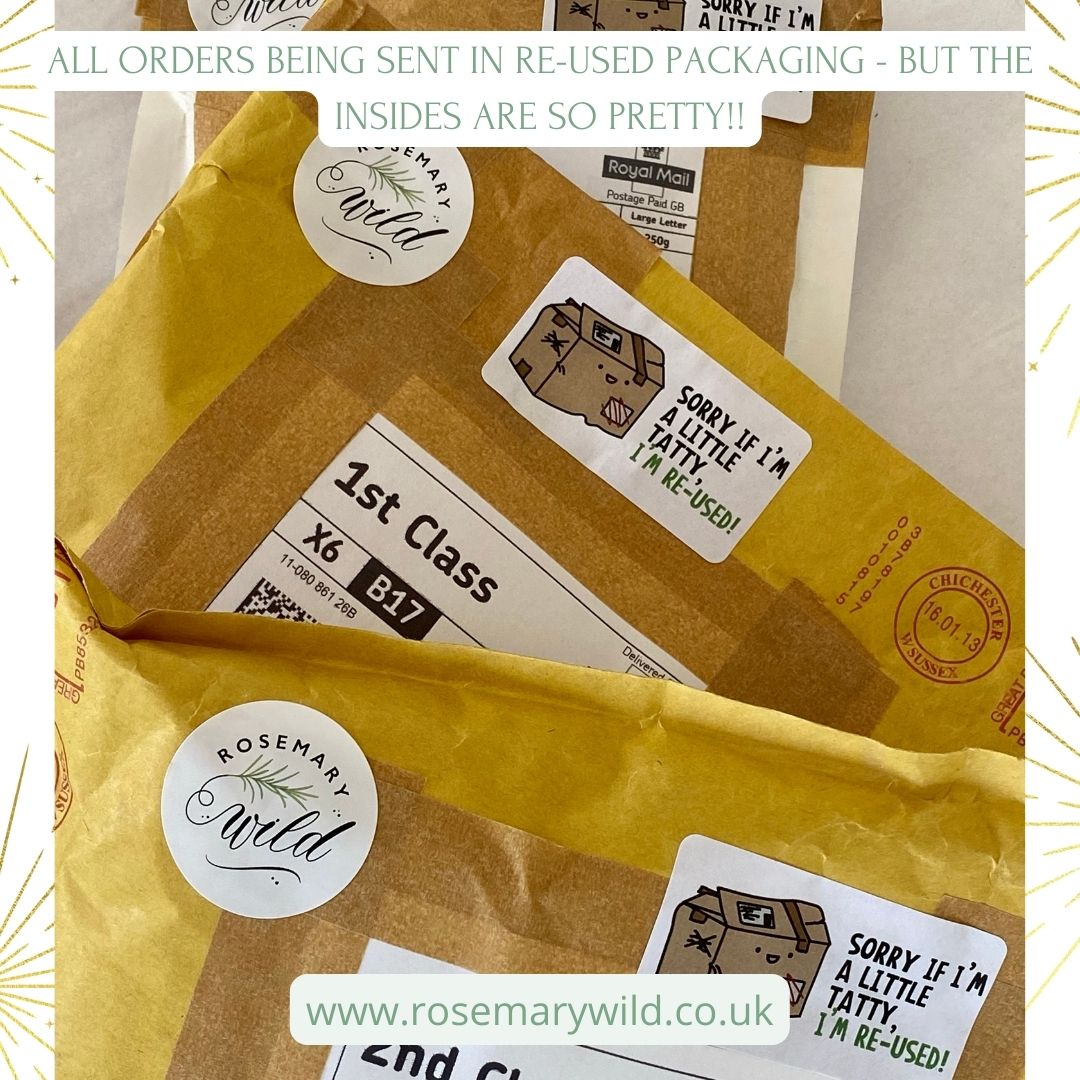 💝It is then popped into a paper envelope or mailing bag. These are reusable, recyclable and biodegradable making them a great alternative to plastic lined mailing bags. Look at my blog post for more details on my fab suppliers!

🌿Your address is taped onto the package using paper tape. The tape uses a natural rubber based adhesive on a renewable resource of Kraft paper. The tape can be left on the brown paper packaging for recycling. It can also be composted but it's recommended by the manufacturer that it is recycled as this way it could be reused up to 7 times.

🌿An email is sent to confirm the order has been dispatched.
How do I deliver your orders sustainably?
💌 Living in a village with limited shops near by and limited time to visit shops, I do quite a bit of internet shopping. Not only is it a timesaver with three children but I cut down my own mileage.

This does mean I get quite a lot of packaging through my door which I then normally recycle. However, I thought some of my lovely customers wouldn't mind paying a little less postage for a reused envelope or box. I've popped up some options for first and second class in my shipping calculator when you get to checkout if this is something you would like to do in your next purchase. Having run this as a trial basis, it is evident that my customers are like minded and almost always choose the re-used option. This is now a permanent option although it may be temporarily suspended at times to allow my stock of reused packaging to replenish.

It is just brilliant to know that I can reduce my own recycling by passing it onto you - and who knows, you might reuse it too which would be brilliant!

💌 Finally, your order is sent via Royal Mail which utilises an existing nationwide network and so therefore minimising additional car usage. I can guarantee orders being sent on a Tuesday and a Friday as the outreach Post Office visits our village on those days and I can walk to the village hall. For deliveries on other days, orders are either collected from my house or when I visit a town which does have a Post Office. From my door to your door with no extra mileage where I can help it!
 What else do I do sustainably?
🏘I think it's so important to give back to community as much as we get. As a mum, I've held various positions in children's playgroups etc and have recently completed my two year role as PTA Treasurer.

🥰I have also donated to charity with some of my products.

💫In the past, I had the Bundle of Love which donated 10% to Marie Curie who provide such support to the families including the presence of a Marie Curie Nurse to lighten their load, share their challenges and help them to face what lies ahead.

💫 I also had the Bundle of Calm which donated 10% to the Scottish Association for Mental Health (SAMH). They represent the voice of people most affected by mental health issues in Scotland.

💫Throughout March 2022, I donated 20% of all 100% sales to the Disasters Emergency Committee Ukraine Appeal.

All these issues are personal and I am delighted that my online store has been able to help provide donations to them. I will continue to donate to charity in the future and I am trying to find the most appropriate way of doing it through the website.